The article written by Lawyer Vo Dinh Duc titled "Investment promotion or providing" is published in The Saigon Economic Times dated 13/3/2014.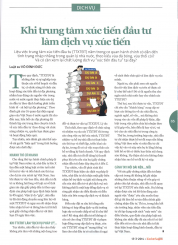 (Please click onto the image to read the article in Vietnamese)
***
While exploring websites on Investment Promotion Centres (IPCs) in Vietnam, it is apparent that "IPCs are the administrative units under the Department of Planning and Investment, with the function of organising local investment promotion activities to mobilise local and foreign capital to implement investment projects for economic-social development in the local area".
According to the assessment of diplomatic representative offices of Vietnam in foreign countries, so far, most localities have established centres in charge of promoting investment in accordance with their assigned functions, responsibilities and powers and they have operated effectively. However, is that effectiveness due to whether IPCs have complied with their functions, responsibilities and powers?! And have the work of such services produced better results for investors as well as demonstrating the role of state management agencies?!
Immediate Effect
Appreciating the cumbersomeness of administrative and legal procedures in Vietnam, a large and prominent Investor X sought a well-known law firm for consulting and support procedure services to conduct their projects in Vietnam. After initial legal advice, the investor has expressed dissatisfaction with their counsel with respect to application time for an investment license under the provisions of the law (according to the current regulations this is 45 working days and if necessary, this time limit may be extended, but not by more than 45 days). Explaining that the business is "urgent", the investor should proactively contact the IPC and shortly thereafter received a receipt of reply for investment certificate for a period of 15 working days for the project of the investor.
As expected, the investor is satisfied with the service of the IPC after being granted the investment certificate on time.
When an IPC does "legal services"
However, investors may still feel uneasy when they do not understand why certain contents as discussed with the IPCs have not been fully recorded in the investment certificates, why they do not even receive copies of the records signed and submitted, and investors do not fully understand such contents as it is deemed to have been be accessed in accordance with the provisions of the law?! This uneasiness can be explained with the following reasoning.
According to the regulation regarding functions and responsibilities of the IPCs as recorded above, as part of their job, one role is to support investors in implementing procedures and supporting them in deploying and setting up their projects, including the preparation of business registration documents. With this regulation, investors are more easily convinced when their requirements (investment certificates) are fully met. However, problems arise when an IPC performs legal services with only a receipt for supporting services (recording content required by the investors and service charges), and not a service contract clearly noting the terms and conditions of the service provider and customer. This creates a situation where if there are no service contracts, how will disputes be handled should they arise? It is obvious that an investor will not have evidence to prove any such culpability from the IPC, and IPCs, making it difficult for the investors. In addition how will revenue from these services be handled? Is it the source of revenue for the state budget?
After consultation the IPCs have helped investors complete their dossiers, which may have only required investors to provide simple profile information, industries and capitals, etc. and does not focus on other legal issues, particularly distribution of profits in proportion of capital contribution, to the charter or their positions and roles in the companies. An example is that the investors state that all three people will have the title of directors of the enterprise; under the provisions of their national law they will be able to have more than one director/legal representative of the company.
Here an investor only receives a dossier in Vietnamese prepared in accordance with the sample dossiers and the investors only have to sign and file the dossiers. This makes investors worry after filing dossiers as they do not know whether any of its contents do not meet their requirements?! The result is investors suffer undue anxiety when their certificate is granted without recording that all the investors are Directors and their agreement on contribution capital and profit sharing has not been reviewed and recorded.
Consequences of the extended arm
Taking these questions back to the IPC, an investor may have not received any satisfactory answers except a statement that if they want to change anything they may apply for adjustment of the investment certificate. The investor is confused because they were not consulted fully and do not have a prepared dossier in accordance with these requirements. In most cases, investment promotion staff will mechanically apply the terms and provisions of the law without sufficient consideration of factors that may lead to risks for investors when doing business and investing in Vietnam. Specifically, in the case of Investor X above, as one in three large shareholders account for 95% of investment capital, but do not have the advantage of experience in business operations, the parties have agreed that although they contribute 95% of capital investment but the profit share is only 70%, the remaining 25% will therefore be distributed to their two other co-founders under the agreement.
The law is not applied thoroughly when particular agreements of investors have not been recorded in exchange for business licenses in Vietnam in a fast, convenient and cheap way. The fact that investors apply for permits eagerly and the thought that they must receive the permits first and should adjust the permits later is a dramatic irony –investors do not know how to handle this except to continue to apply for permit adjustment, and so in their minds probably feel they have been "cheated" ever since setting foot in the Vietnamese investment and business environment.
Reorganizing promotion activities: back to their inherent function and responsibility
Obviously, the present IPC situation of them acting as judges in their own cases has badly affected the image and investment environment, presently leading to a revaluation of the effectiveness of each IPC in every province and the 3 regional IPCs. I believe that investment promotion in some respects has exceeding their functions and responsibilities and therefore need to return to their proper function if the localities desire to have an attractive investment environment to attract investment in Vietnam.